Take a handful of single origin chocolate, add a dash of the finest cacao, and mix it all together with local ingredients and years of expertise. Every year, Irish chocolatiers produce some of the most incredible Easter eggs and chocolate treats in the world.
As one of Ireland's most recognisable chocolatiers, Butlers Chocolates has spent the past 90 years crafting some of the nation's finest sweet treats. From its first humble shop in Dublin, Butlers Chocolates now has 19 chocolate cafés in Ireland and an extensive online shop.
Try the Chocolate Chicks or the Dark Chocolate Wrapped Egg complete with mini truffle eggs this Easter. Share a beautiful chocolate collection that adults will love as much as the kids.
In the picturesque setting of Thomastown in Kilkenny is a chocolatier making sweets just as gorgeous as the scenic setting. Specialising in handmade truffles with natural ingredients, Head Chef Mary Teehan at Truffle Fairy has won international awards for her chocolates.
Don't overlook the rest of her amazing creations. You'll find raw cacao bars, chilli flake bars and cacao nibs. Get your chocolates from Truffle Fairy and you'll see why the people of Kilkenny love this shop so much.
3. Koko Kinsale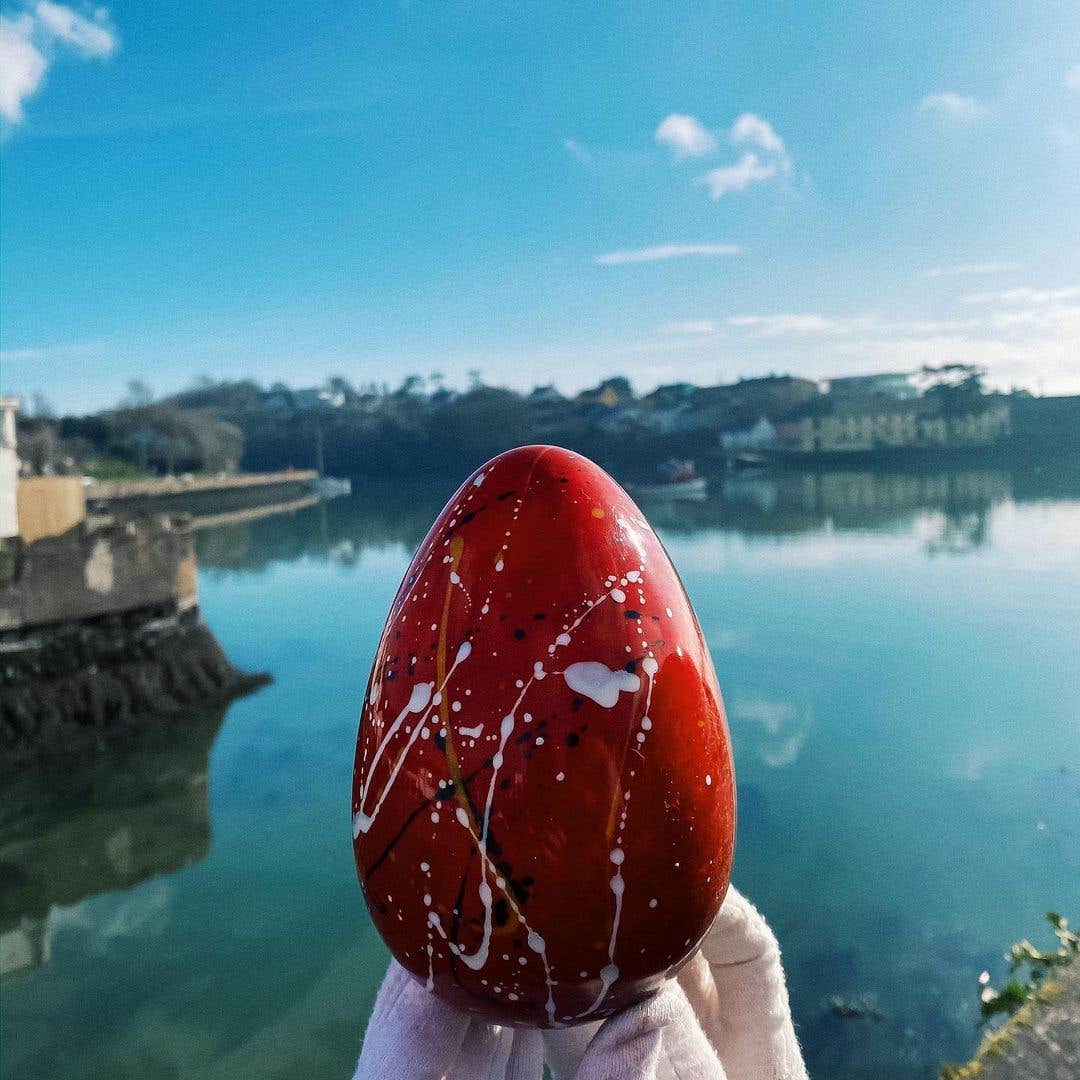 Satisfy your sweet tooth with a treat from Koko Kinsale in beautiful Cork. Owner Frank Keane has spent years sourcing local ingredients and mastering techniques to create chocolates specifically for Irish tastes.
Koko Chocolates are all handmade and beautifully packaged. Buy a hand-painted Easter egg from their wonderful shop in Kinsale or order online and enjoy Belgian chocolate this Easter.
4. Bean and Goose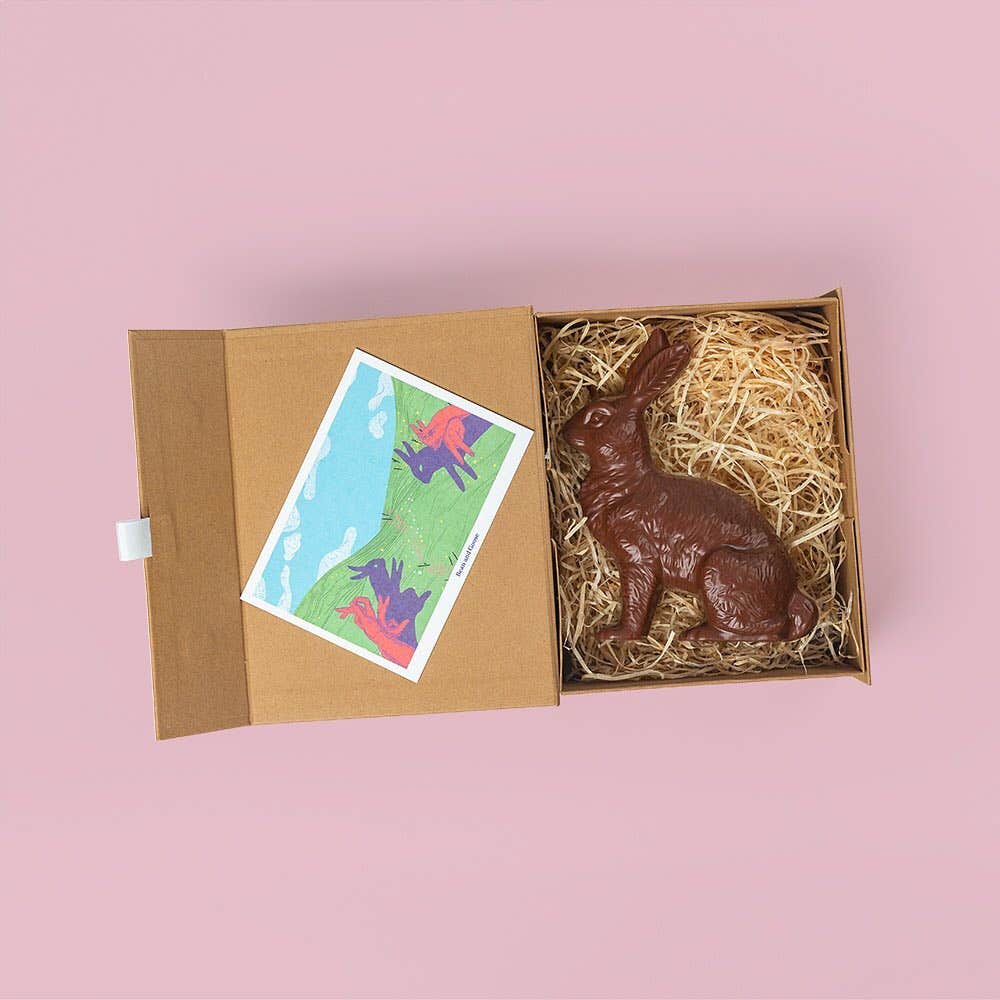 Sisters Karen and Natalie spent their childhood making and eating chocolate, this passion led to the creation of Bean and Goose in Wexford. Never afraid of getting creative, some of their top selling flavours include umami seaweed, smoky sea salt and spicy hazelnuts.
Try one of their Easter bundles and for an Easter gift that gives all year round, sign that lucky someone up to the Bean and Goose Tasting Club. Try not to get jealous of their monthly deliveries of unique chocolate creations.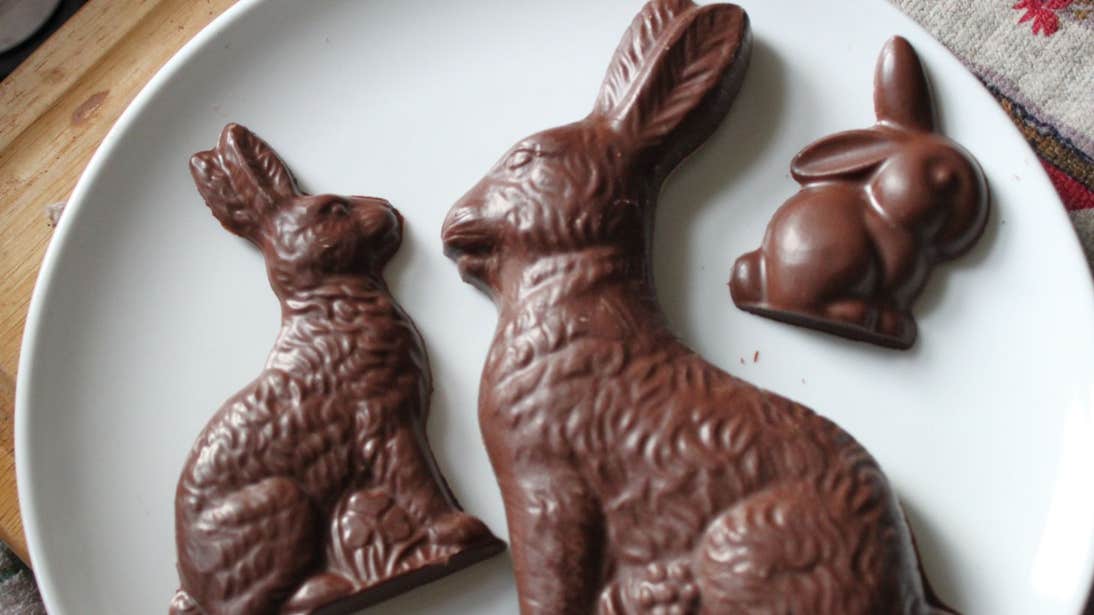 Open this item in the map
Find Europe's smallest bean to bar chocolate factory at Exploding Tree in Clonakilty. Using 100% Fairtrade Ghanaian cocoa and coconut sugar along with 100% biodegradable and sustainable packaging, this is real guilt-free chocolate.
Grab a gift bundle this Easter and devour amazing creations with mint, chai and chilli, or dairy-free oat milk. Feeling adventurous? Order an Experimenter's Kit and learn how to make your own chocolate work of art at home.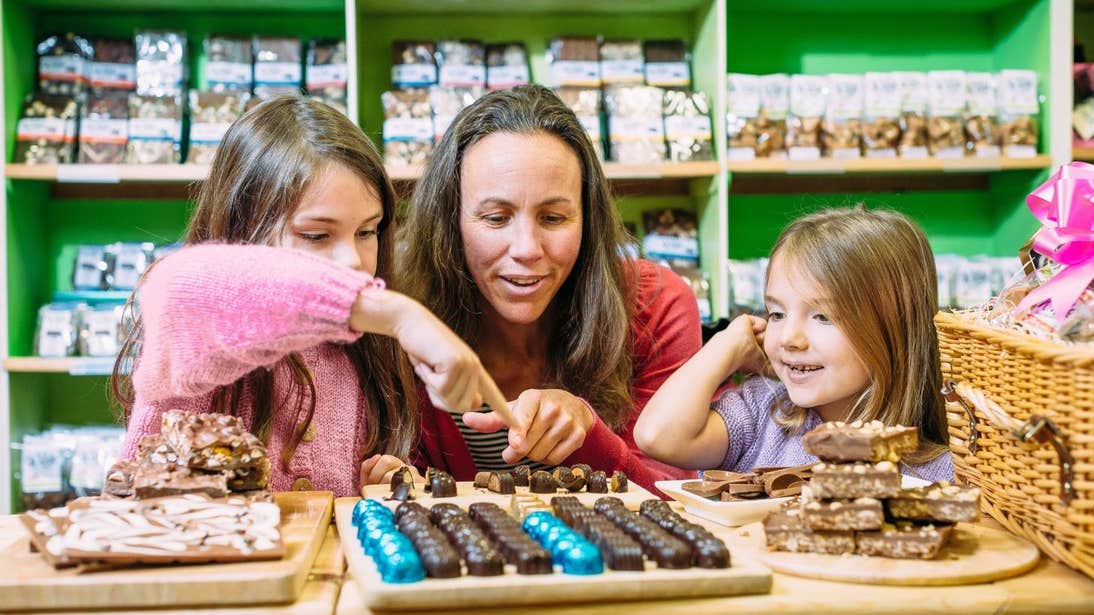 Open this item in the map
Gorgeous chocolates and treats made on the shores of Lough Derg are sure to delight this Easter. With over 80 flavours across chocolate bars, fudges, slices and gift boxes, there's oodles of choice at Wilde Irish Chocolates.
Each of the delectable goodies are handmade and hand decorated, so they look absolutely stunning – a perfect gift.
7. Nobó
Dublin-based vegan chocolate makers Nobó keep the concept of 'less is more' in mind with everything they do. They only use simple ingredients that are key to the recipes, there are no unnecessary additives in their chocolate bars and once you're finished, their packaging is all 100% compostable.
Reward yourself with the Ultimate Treat Box packed with chocolate bars and chocolate buttons or feast on the Easter Bar Selection. Nobó's online shop has all of their incredible treats and gift sets, they also have worldwide delivery, so you can delight your vegan friends around the globe this Easter.
8. Grá Chocolates
Expert chocolatier Gráinne Mullins runs Grá Chocolates in Kilchreest, Co Galway, where she creates some of the country's most spectacular Easter eggs with local and sustainable ingredients. The stunningly painted eggs are finished with a reflective glaze, making them look almost too good to eat.
The sweet delights don't end there, crack them open and see that Gráinne has decorated the inside of the egg too. Choose from the brightly speckled blue sea salt flavour, a rich blend of strawberry compote and white chocolate ganache, shimmering peppermint and many more.
9. The Proper Chocolate Company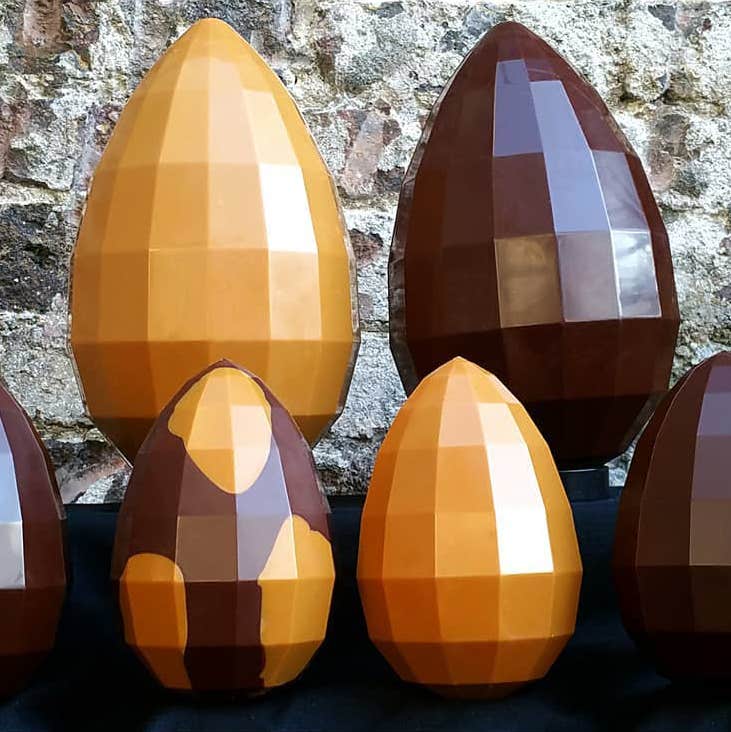 Driven by a desire to make incredible chocolates, The Proper Chocolate Company is Dublin's only bean to bar chocolate maker. This means that they take the cocoa beans, sort, roast, crack them and turn them into luscious chocolate – all on their own premises.
Their geodesic eggs, particularly the blond salted caramel one, will be the highlight of anyone's Easter. For even more goodies, buy a few single origin chocolate bars to share with the family.
10. Cocoa Atelier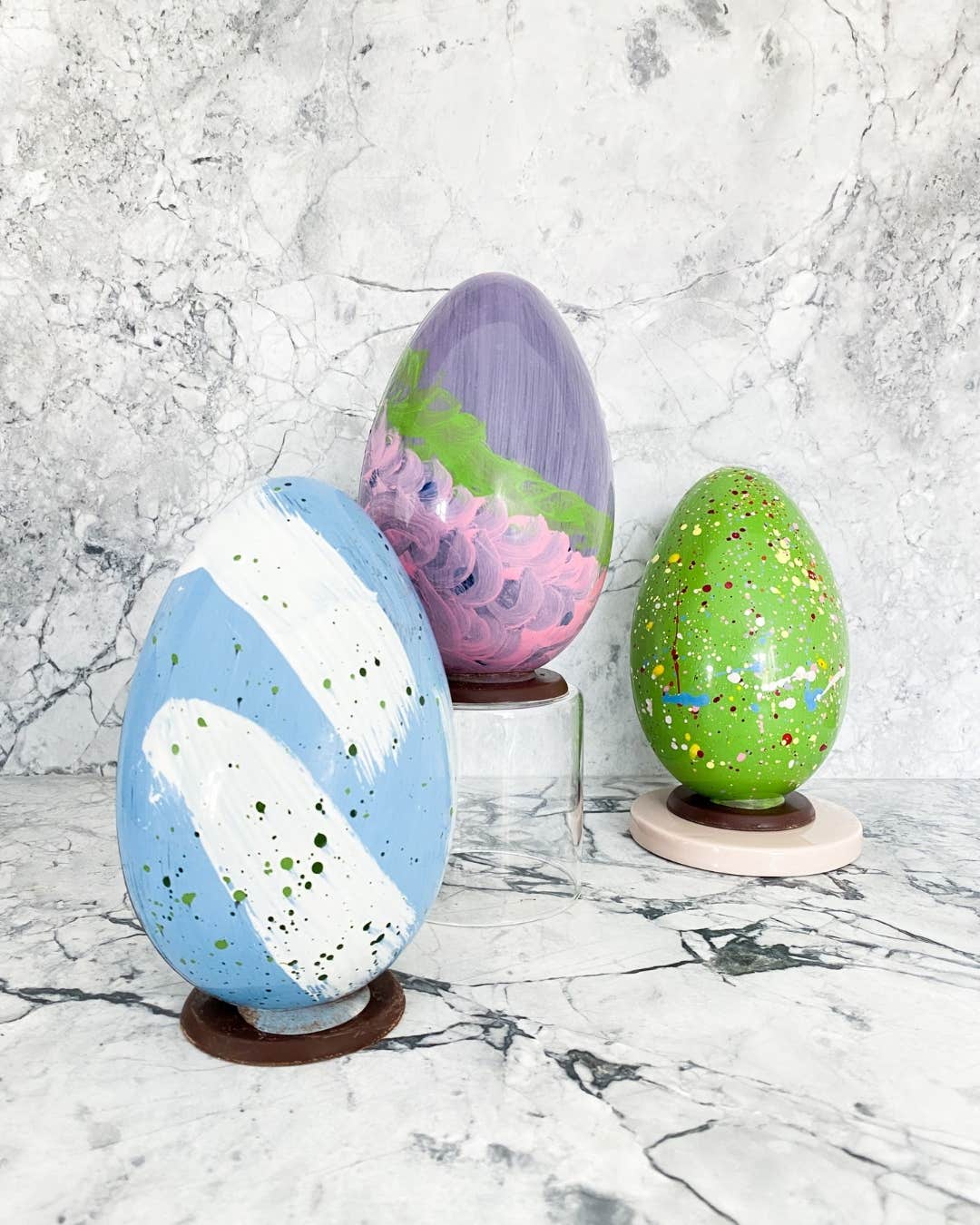 Pairing rich, intense flavours with a visual elegance to match, Cocoa Atelier's creations are some of the best around. From delicately decorated eggs to colourful boxes of chocolates, their quirky style really stands out.
Using Irish ingredients like Achill Island salt and rich creamy butter, the Chocolate Lab at Cocoa Atelier is always coming up with new combinations. Choose from a chocolate gift set, tasty chocolate drops or dazzling Easter eggs from this great Irish chocolatier. While their online shop is currenly closed, you can pick up their creations at Fallon & Byrne, Donnybrook Fair and other locations around Dublin.
Choose your Irish chocolate treat
There's no end to the amount of amazing Irish chocolate available this Easter. For more culinary delights and foodie inspiration, check out our Food Experience page.
Source : Discover Ireland