From a converted horsebox in Coleraine to a cave in Limavady, and an off-the-grid cottage in the Mournes, there's an array of accommodation choices offering something special across Northern Ireland.
The Oat Box, Coleraine
'It was a way of capturing people's imaginations'
When Olive McCaughan came across a 1960s horsebox for sale online, she immediately spotted its potential and purchased the trailer despite not having seen it in person.
"I had been watching eBay and Facebook marketplace for a while for a suitable vehicle to convert," Olive (42) says.
"When I saw this lorry on eBay, I bid on it and won the auction in the closing minute. I had a brief phone conversation with the owner before bidding but hadn't viewed the lorry which was in the south of England at that time.
"It was a bit of a risk having not seen it or having no means of transporting it at that time, but the phone call with the owner reassured me that they would help get the lorry loaded onto a transporter and safely delivered over to us.
"It was the original features that I could see in the eBay pictures that sold it to me, it was built by a well-known quality coachwork in England and had been treated with care."
Olive and her husband Richard had been looking for a challenge and this project provided them with the perfect opportunity to roll up their sleeves and get to work. The trailer had been used for drawing horses until five years previously and it came with pony club rosettes and certificates that had been left in the cab by the previous owners.
Inspired by Channel 4 programme George Clark's Amazing Spaces and with the help of a local joiner, the couple spent six months converting the 1968 Bedford TK horsebox into a "truly unique" accommodation.
"We tried where possible to use recycled and reclaimed materials to finish the interiors, using an old saddle rack for the light fitting and salvaged wood from a church vestry as cladding," Olive says.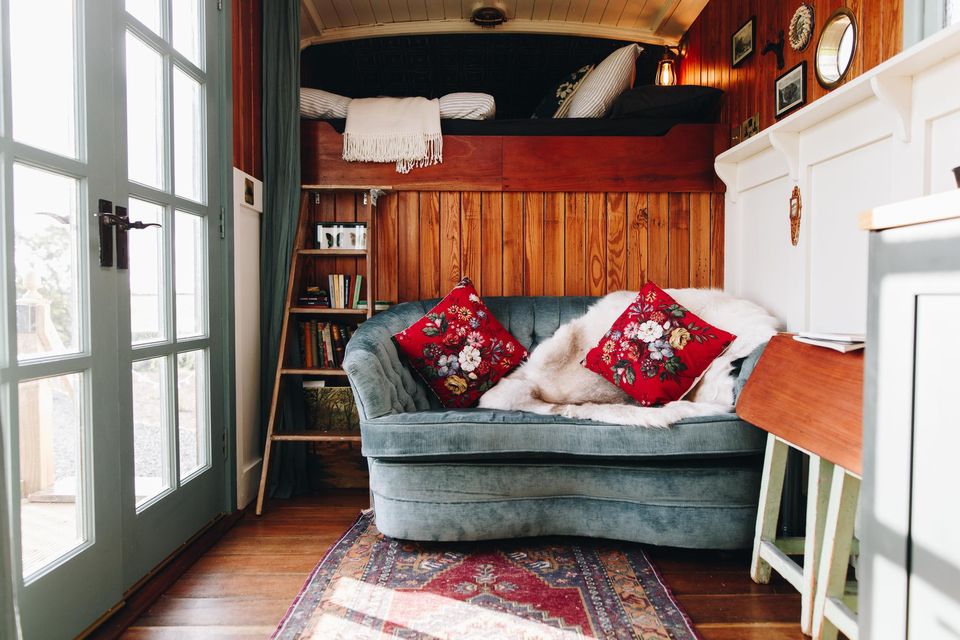 "The lorry ceiling and the hardwood floor are from the original. The dividing wall for the en suite is made from a church pew back. The scale of the accommodation made everything more challenging to fit in, but we managed to get most of the essentials in with a little bit of added luxury."
Although there was a lot of work involved in renovating the vehicle, Olive felt the effort would pay off.
"It wasn't as daunting as renovating a full house," she says. "And we knew we had a field that we could put it in with lovely views over the countryside. I knew there weren't many other horsebox stays in Northern Ireland, so thought it would be way of standing out in a reasonably crowded market on the North Coast and a way of capturing peoples' imaginations."
The Oat Box sleeps two adults in a king-size memory foam bed that's located above the cab of the lorry, accessed via a vintage wooden stepladder. It's fitted with an en suite and a quaint kitchen with Belfast sink and antique tiled splashback. There's a woodburning stove inside with a mini range oven and stovetop.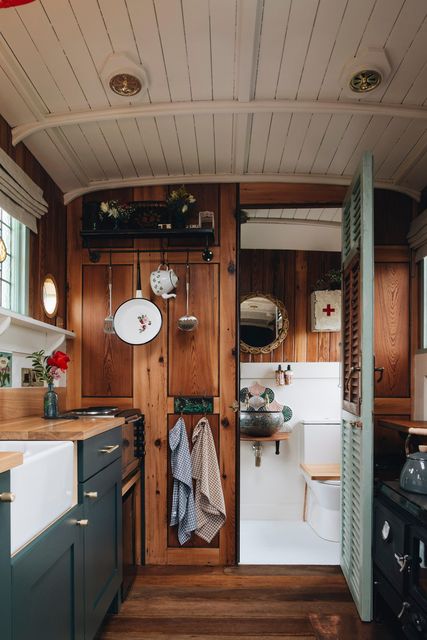 The décor is an eclectic mix of vintage pieces that have been carefully chosen and upcycled to suit the space and the couple's vision. A small balcony has been fitted to the place where originally the horses were loaded, and around the back of the van, there's a new patio area with sun loungers and a woodfired hot tub.
In terms of feedback from guests, they are most impressed by the location, Olive says:
"Our American guests love the fact they are staying in the countryside in an authentic farm setting, and everyone comments on the beautiful sunsets that you can see from the balcony of the lorry and the hot tub.
"A lot of visitors comment on how peaceful and quiet the setting is and the fact they can see hares and foxes and pheasants in the surrounding fields.
"It's maybe not somewhere you would stay for a week due to the size of the accommodation, but it's a great fun stay for a couple of nights being that bit different to the other accommodation offerings on the North Coast."
The price to stay at The Oat Box, Coleraine, starts from £120 per night. For more information email olive@theoatbox.com or look up The Oat Box on Airbnb or Facebook.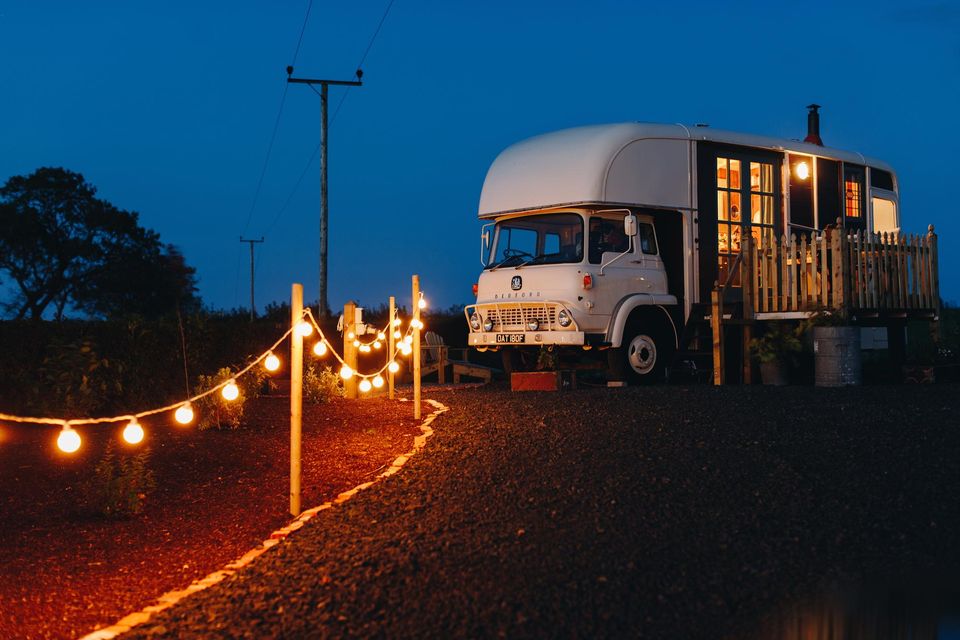 Waterfall Caves, Limavady
'Our accommodations are built underneath the ground'
Located in the shadows of Binevenagh mountain overlooking two lakes, the location of Waterfall Caves is one of a kind. Considering the accommodation consists of caves, guests experience a truly unique stay.
In addition to farming, Ross Canning (25) runs the family business alongside his parents Paula and George. Ross' great-grandfather purchased the Limavady site back in 1942, and he's proud to say the land on which Waterfall Caves was built has been in the family for three generations.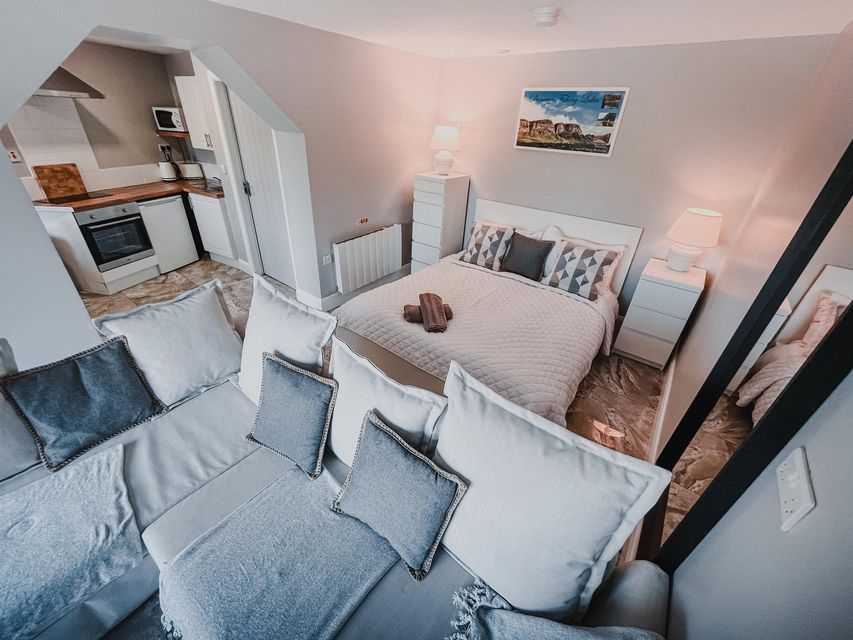 "The land was primarily used for growing vegetables and grazing livestock," Ross says. "We started transforming the area into what it is now in early 2017. The caves themselves took around six months to build, but the site as a whole took closer to two years before we started welcoming guests."
Originally the family had planned to create a fishery that would have been used by anglers only, before having a change of heart.
"As we developed the site and began to realise how unique the area was, we thought it would be a good idea for other people to be able to enjoy it as well," Ross explains.
"The area we used to build was quite hilly, so we decided the best course of action would be to work with the landscape and build directly into it, rather than removing a large portion.
"Securing planning permission has been challenging; the environmental importance of the area has made it hard when building anything at all in Magilligan. We had to conduct a number of environmental surveys to ensure we were not disturbing any of the wildlife that resides in the area. We also had to conduct geographical surveys to ensure the banks of the lake would be stable over a long term.
"That being said we were quite lucky as our planning application is classified as farm diversification, and some of the infrastructure required to build the site was already in place before we started construction. We also received a large amount of local support from neighbours and local politicians."
From the outset, it was important to the Cannings that their accommodation blended as seamlessly as possible into the surrounding area.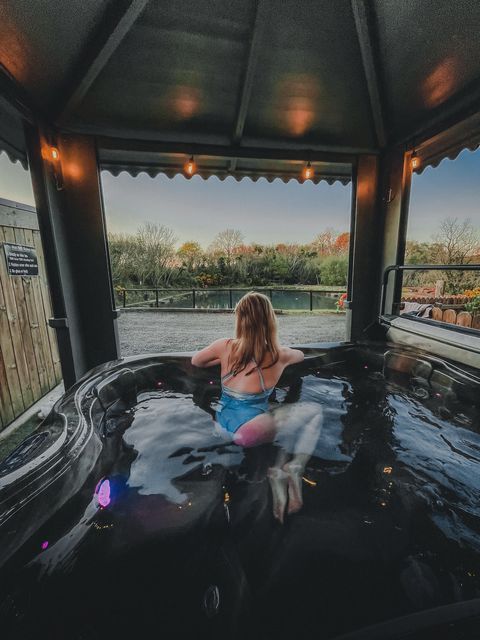 "Our accommodations are built underneath the ground, tucked away in the landscape," Ross says.
"The inside of our caves were designed by my mum who brought a sense of home to the rooms. The building work was carefully done with a large amount of time spent by my dad and I to ensure the accommodations worked with the natural landscape. We feel we have created something quite distinctive, having the most spectacular views and hidden away, we feel we offer people the chance to get away from it all and relax, surrounded by something incredibly special."
Waterfall Caves amenities include a fully-equipped kitchenette, fire pit, HydroJet hot tub, Wi-Fi, fishing access and use of a Kubota ATV all-terrain vehicles that can be used to explore the site.
"We have an average rating of 9.8/10 across various booking platforms, which we are really proud of," Ross says.
"Some things mentioned in our reviews are the cleanliness and quality of the rooms and driving the Kubota ATVs. However, the main feedback we receive always talks about the beauty of the site and the surrounding area as a whole."
The accommodation provider says there are a number of aspects that makes their offering special, including the setting and picturesque views.
"We were lucky to be able to build the site at the base of Binevenagh mountain," Ross says.
"The mountain was designated as an Area of Outstanding Natural Beauty (AONB) in 2006 and it is easy to see why. It dominates the landscape here on the North Coast. We also have panoramic views of the north Atlantic, Donegal, and Lough Foyle from our viewing point.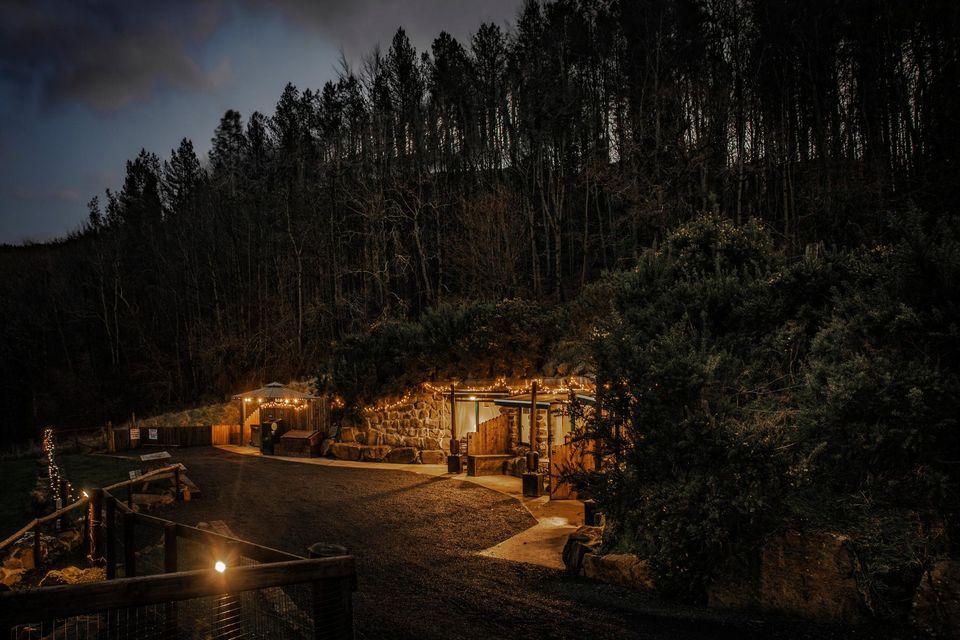 "Secondly, the views from the accommodations themselves are quite spectacular. As guests approach the caves, the area opens up to reveal our spring water lakes. The lakes are surrounded by dense forest that seals the area off to our guests and anglers. The sunrise can be seen most mornings from the caves and guests can take full advantage of this view as the accommodations are glass fronted. We think this is the ideal way to start your morning at Waterfall Caves."
In terms of future plans, the Cannings aim to develop more accommodation options and offer catering in the next few years. Ross adds: "The site is quite large and is only limited by what my Dad and I can imagine."
A stay at Waterfall Caves starts from £175 on weekdays and £190 on weekends. For more information, see waterfallcaves.com
Birch Cottage, Ballyroney
'Power comes from the sun and wind'
A rural retreat in the Mournes, Birch Cottage is owned by Steven and Claire Golemboski-Byrne. Pioneers of ecotourism, the couple's self-catering accommodation on Lackan Cottage Farm, Ballyroney, is off-grid.
"Birch Cottage is unique because it demonstrates how a typical country cottage can be warm, comfortable and environmentally friendly, but entirely off-grid," Steven says.
"Power comes from the sun and wind, and fuel from our woodland that sits right next to the cottage. It's beautifully fitted out with locally produced and created materials and everything within it has a story to tell."
For Steven and Claire, the restoration of the farm and cottage was a labour of love project that took time and patience.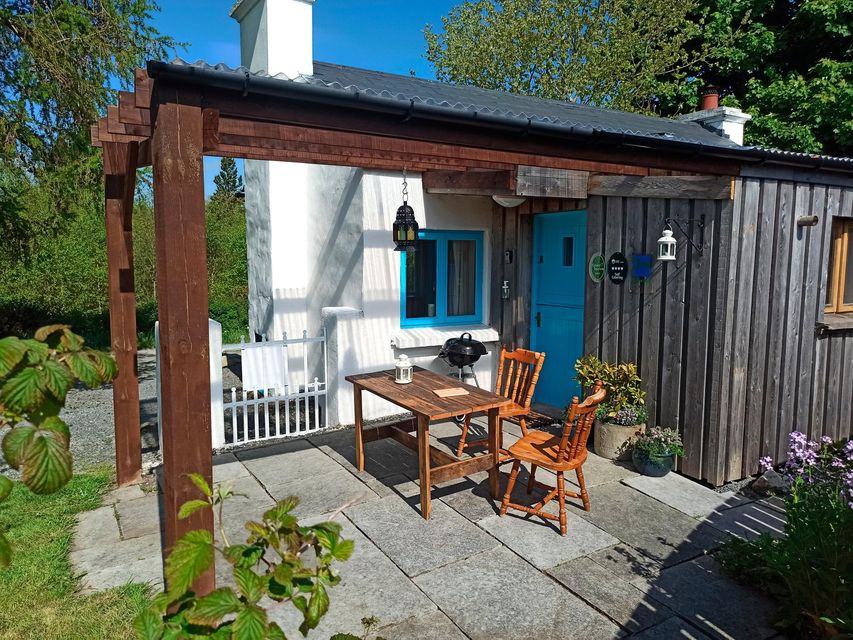 "Lackan Cottage Farm and Birch Cottage were built in the 1840s by a tenant farmer and handed down within the same family until 2012 when we bought the property," Steven says.
"The previous elderly residents had been in poor health for some time and the whole place was falling down basically. We had to strip the buildings right back down to bare stone and earth floors and start again.
"Whilst the impending birth of our daughter Lyra was an incentive to make Lackan Cottage habitable in just 15 weeks, it took nearly two years to bring Birch Cottage back to life. We created a place that we would be really happy to live in, and overwhelmingly positive feedback from our guests over the years has reflected that."
Originally a stone barn, Birch Cottage now holds a Green Tourism Gold award and a four-star Tourism Northern Ireland rating.
"Part of our goal with Lackan Cottage Farm was that it could be an exemplary demonstration of how people might be able to reduce their impact on the environment without sacrificing home comforts, and Birch Cottage is central to that," Steven says.
"Part of its success is that the off-grid elements are – if not invisible – certainly not noticeable. It has regular lighting, appliances, underfloor heating, and a plentiful supply of hot water; all provided by renewable energy systems that operate in the background, as well as passive systems like good orientation to the sun, massive amounts of insulation and clever design.
"A lot of off-grid places, in my experience anyway, tend to be quite alternative, and we didn't want to scare the life out of anybody, so we wanted to make it quite normal looking here. It's nice but it's quite recognisable. There's nothing weird about it, but at the same time it doesn't have a mains power connection and doesn't have an oil boiler, but it's still warm or comfy and has what you'd expect it to have."
One aspect of the owners' ethos was to use local materials and natural, chemical-free materials where possible.
"All of the wood we used is from known sources, most of it from Northern Ireland," Steven says.
"We found old cottage doors to use inside and we kind of custom-made everything. If there's a picture on the wall it's by a local artist. We were just trying to make it as sort of locally grounded as we could."
Visitors can enjoy a barbecue on the patio, take a stroll in the forest on-site, or explore Slieve Donard or one of the other nearby hiking destinations. The holiday let is a short drive away from Newcastle, Tollymore Forest Park, Castle Ward, and a number of local beaches.
"On one side the cottage has views across the fields to the Mourne Mountains, and on the other, our native birch woodland, which has a private seating area and firepit that guests can enjoy during their stay," Steven says.
"Hammocks are provided for sunny days, and in colder weather, guests can light the woodburner and enjoy a cosy night in.
"Guests typically enjoy the peaceful surroundings, the calm atmosphere of the cottage – there's no TV here – and the ability to step straight out into some of the most beautiful countryside anywhere on the island of Ireland. There is an abundance of wildlife here – bird watchers are especially happy to visit, and we are always happy to show visitors around the gardens and answer any questions about the off-grid element."
Birch Cottage sleeps two adults. Prices start from £85 per night in winter and £100 per night in summer. For more information, see lackancottage.co.uk
Sperrinview Glamping, Cookstown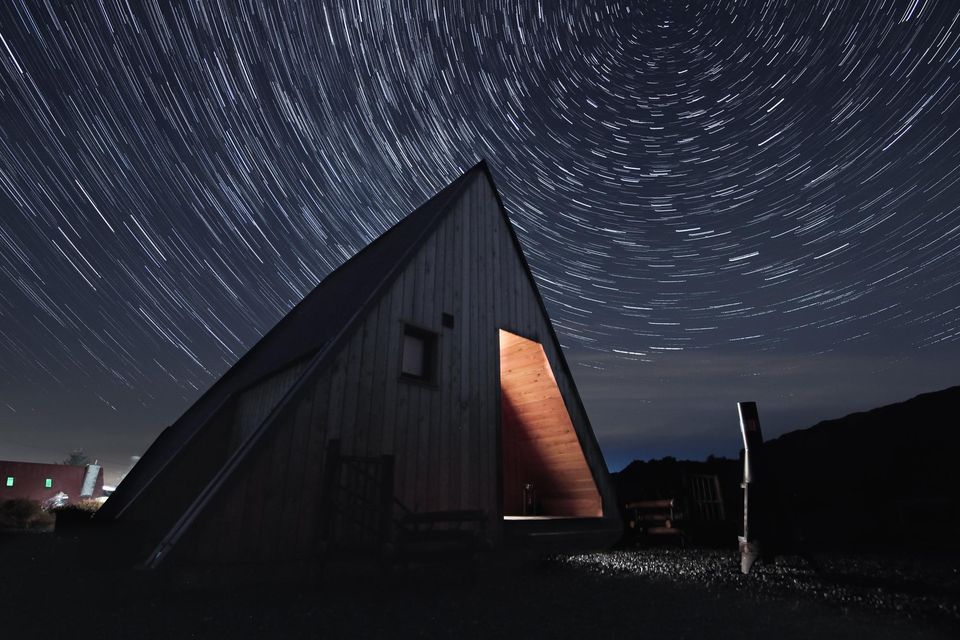 A glamping site located at the foothills of the Sperrin Mountains, next to Beaghmore Stone Circle, and a mile from Davagh Forest, there's a wealth for Sperrinview guests to explore. The pods are situated in one of Northern Ireland's recommended Dark Sky sites, and each one has a ceiling viewing window so guests can lie in bed and gaze up at the stars. Each cabin has two double beds and one sofa bed. Guests have access to a communal hub where they can cook, relax in the reading corner, or relax in front of the open fire. Prices start from £125 per night. www.sperrinviewglamping.com
Barge at Titanic, Belfast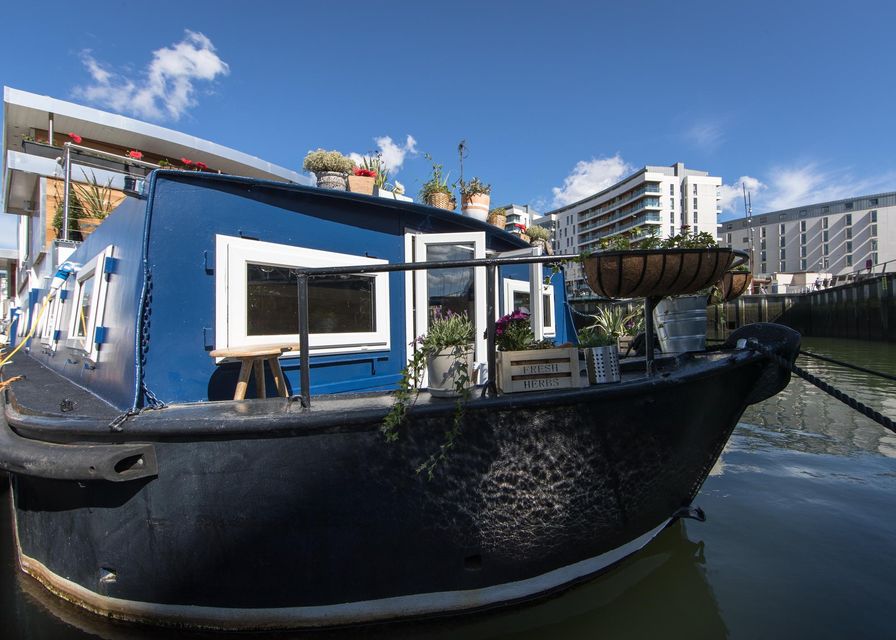 A holiday let with a difference, this luxury barge is situated in Belfast Marina right in the heart of the city, with views overlooking Titanic Belfast. There are two self-contained units on-board, each one comfortably accommodates four people. Guests have access to the Marina building which has full laundry room and extra showers. The interior has been cleverly furnished to maximise the space and sea-theme décor is incorporated throughout. A stay starts at £145 per night. www.bargeattitanic.com
Burrenmore Nest, Coleraine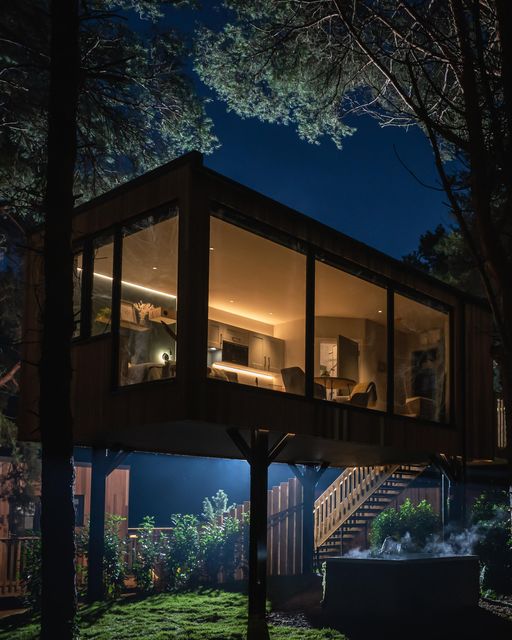 Set amongst 82 hectares of woodland in the heart of Downhill Demesne Forest Estate, Burrenmore Nest lodges are a seven-minute walk to the Lion's Gate entrance to Mussenden Temple. Each lodge has floor-to-ceiling windows with forest views, a balcony where visitors can take in the sights and sounds of nature, a private outdoor whirlpool bath for two, and built-in home-cinema projector. Guests have access to a communal fire pit, comfy outdoor bean bags, and use of a barbeque. The off-peak rate is £265 per night, weekends and holidays are priced at £295.
FinnLough, Enniskillen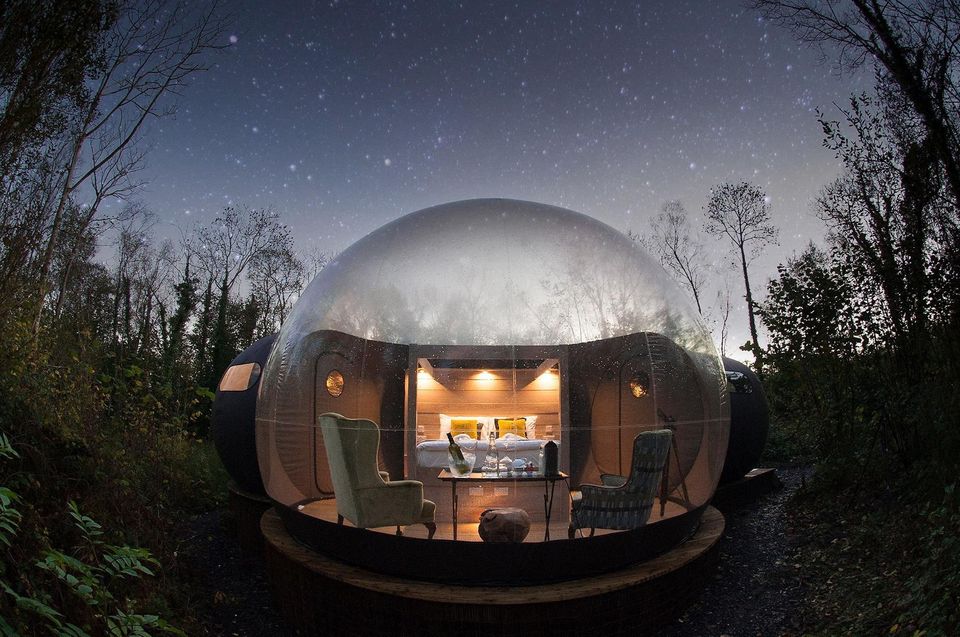 Tucked away in a private forest, FinnLough Bubble Domes give uninterrupted views of the nature. Each dome sleeps two adults and the premium domes offer most spacious interiors and a roll top bath. In addition to the domes, visitors can book a lakeside villa or suite. Guests can dine in The Barn Restaurant, pamper themselves in the Awen Shore Spa, or indulge in the Elements Trail; a two-hour self-guided experience through a series of treatment cabins that combine hot and cold therapy. Including breakfast, an overnight stay at Forest Bubble Domes starts from £310 per night, Premium Bubble Domes start from £410. www.finnlough.com
Fairy River, Newry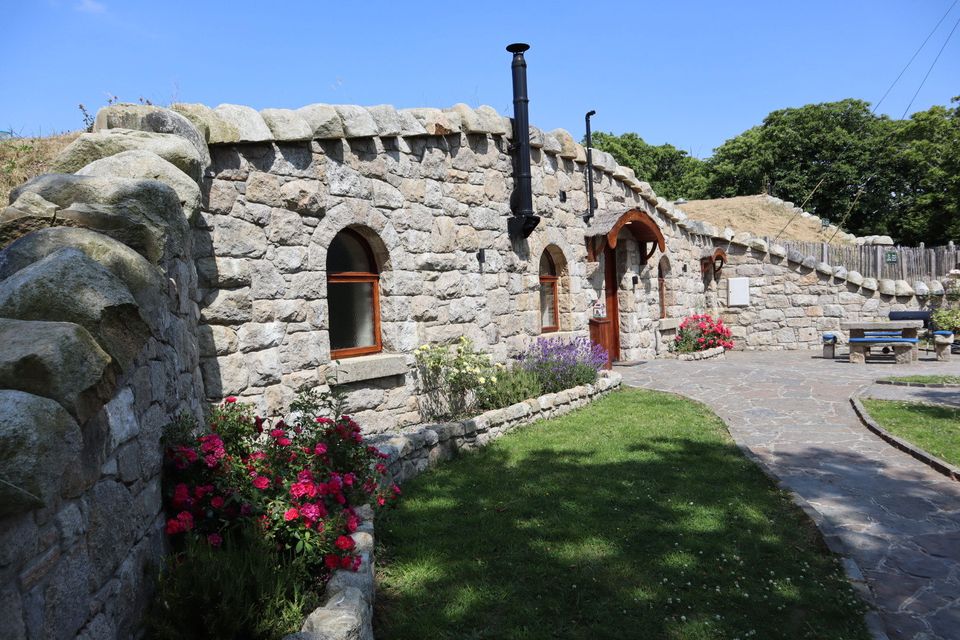 At Fairy River, guests can stay in the Fairy Cottage or Witches Cabins. There are two Fairy Cottages that sleep up to five people and offer direct access to the Mourne Mountains. The cabins sleep two-three people. Guests have access to an on-site playpark, and a farm animal viewing farm which is open from March to November. Children are encouraged to listen to the audio stories on the Fairy River website, that tell the stories of three enchanting sisters who live, work and play by the cottages. For a two-night stay, the price per stay is £220 for the Witches Cabins and £300 for the Fairy Cottages. www.fairyriver.co.uk
Further.Space, various locations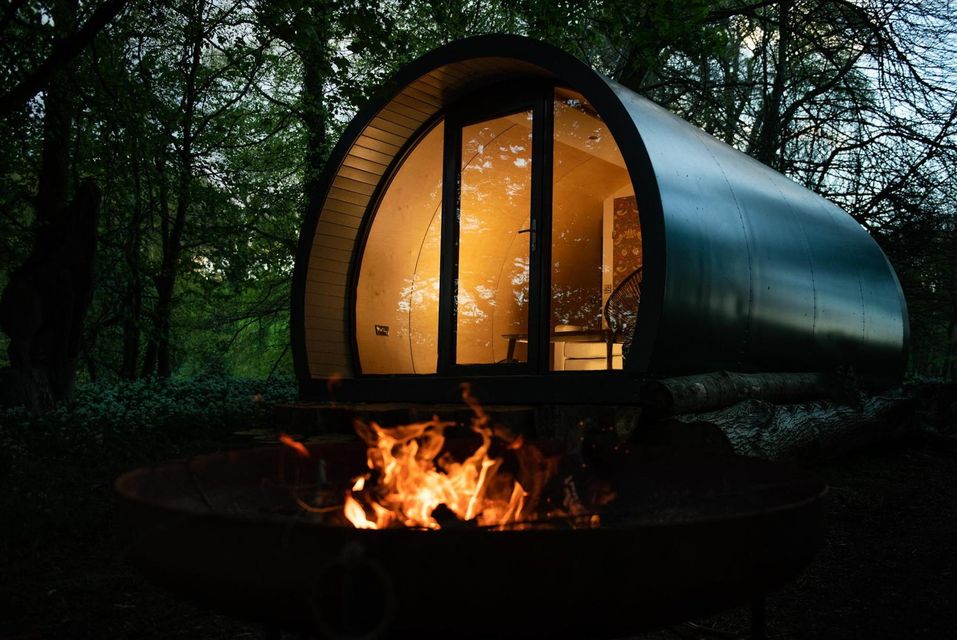 Further.Space's vision is to go beyond the ordinary and let customers stay somewhere exclusive, cosy and stylish, with nature on their doorstep. They have teamed up with local partners to bring their fully-furnished, en suite luxury glamping pods to spaces that may not otherwise be enjoyed. The pods are located in various sites across Northern Ireland, including Ballycastle, Lough Erne, Glenarm, Downpatrick, the Mournes and Ballymoney. Each one is heated and well insulated for a comfy stay all year round. The starting rate is £120. further.space/glamping-pods
Quarry Hill Church, Strangford,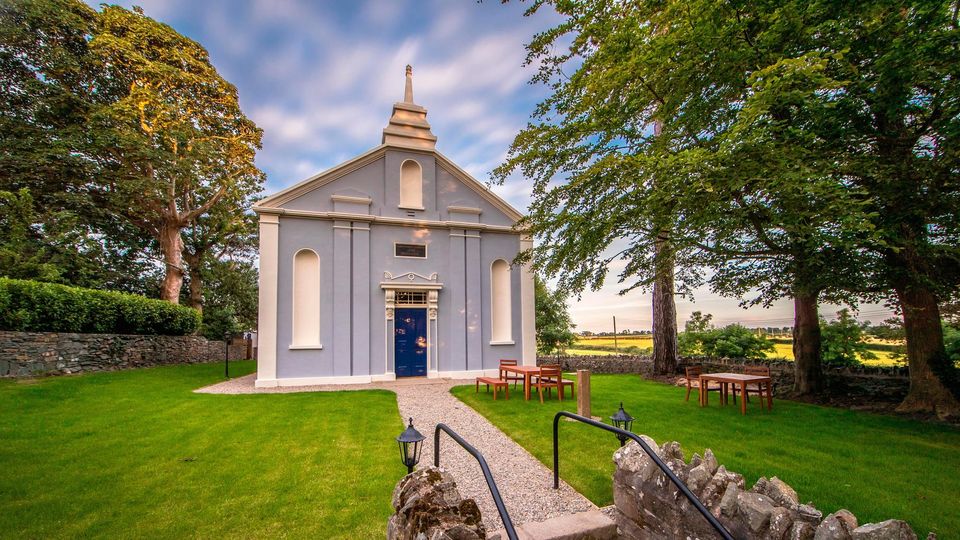 This five-star church conversion sleeps up to ten adults. Saved from ruin by its owners, the church has been renovated and transformed into a self-catering accommodation. The open-plan sanctuary features a modern kitchen, dining area, lounge and TV area. On the mezzanine level there's a gallery with glass balustrades that offers views of Castleward Bay. This is reached from the sanctuary via a staircase that has been woven into the original church pulpit. Four out of the five bedrooms have ensuite bathrooms and the fifth room has direct access to a family bathroom. Ideal for groups, the cost to stay is £600 a night with discounts available for longer stays. www.quarryhillchurch.com
St John's Point, Killough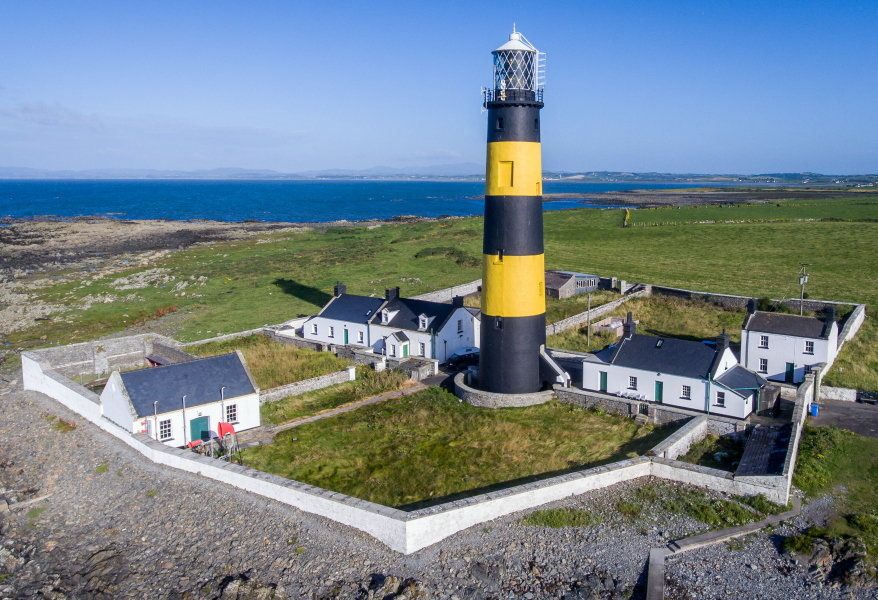 Experience a taste of life as a lightkeeper at St John's Point where guests have a choice of two cottages – Ketch and Sloop. From when the first light shone from it in 1844, the tower has captured peoples' imagination; it was painted by playwright Brendan Behan and is mentioned in Van Morrison's song Coney Island. Each cottage sleeps four, oozes character and guests can enjoy exploring the rugged coastline setting. The starting price for two nights is £362 in low season and £390 in high season (from May to September).
Source : Belfasttelegraph