Ahmed said that when he first arrived in Ireland after fleeing violence in his home country of Sudan, he was told by officials there was no place for him to stay.
So, like many other refugees, he pitched a tent near Dublin's International Protection Office. He said he didn't have many belongings: some books, a few personal items and photos of family members who were killed in the conflict just weeks before he fled.
But Ahmed, who asked CNN not to reveal his real name because of concerns over his safety, said all that was destroyed earlier this month after far-right anti-immigration activists organized a protest that led to the burning of the make-shift camp where he was staying.
The Sudanese man told CNN he came to Ireland to escape political persecution he is facing at home over his pro-democracy beliefs.
Ahmed said that after escaping Khartoum, he flew to Dublin, where he asked the Irish government for asylum. The man said he was relieved to have found refuge with such "great people." But a month and a half after arriving in Ireland, he is still waiting for more permanent accommodation as he camps on the streets of Ireland's capital.
"It is hard to be under a tent, there [is nowhere] to go to the bathroom and no cooking facilities. This is not a solution. We just want to be somewhere safe," he told CNN.
Ireland likes to be known as the "the land of a hundred thousand welcomes," a nickname that is meant to reflect the kindness and hospitality of its people. But tensions over the country's growing number of asylum-seekers have been rising for some time, culminating in the arson attack in Dublin.
Irish police did not provide details about its investigation into the incident and did not respond to questions about who it believed started the fire. The force told CNN they met with government representatives and provided a "proportionate response to incidents of public gatherings and protest."
No housing and years in limbo
Struggling to cope with the high numbers of refugees arriving to its shores, Ireland has built up one of the longest backlogs of asylum claims in Europe. According to the Oxford Migration Observatory, refugees were waiting an average of 23 months to hear an initial decision on their application in 2021, the latest available data. Even if their case was prioritized, the wait remained long: 14 months on average, according to the observatory.
Bulelani Mfaco, a former asylum-seeker and spokesperson for the Movement of Asylum Seekers in Ireland (MASI), told CNN in an email that the backlog is because, unlike other EU countries, Ireland has no statutory time limits for issuing decisions on asylum claims.
Despite the growing backlog, the Irish government has pledged to continue to accept asylum-seekers in line with its decision to take part in the European Union's relocation and resettlement schemes.
Making matters more complicated, Ireland is also facing a long-term housing shortage, according to a government report, with rents rising and home prices becoming unaffordable for many. And while Ireland's economy grew 12.2% last year – faster than any other in Europe – the benefits are failing to reach the pockets of most ordinary workers.
Mfaco told CNN anti-immigration activists are exploiting these concerns. "It's far-right organizers spreading disinformation about asylum-seekers in a bid to pit asylum-seekers against other marginalized people in Ireland. What we are seeing though is more 'not in my backyard' type of objections or 'house our own first' which we have seen from far-right organizers before," he told CNN.
Police told CNN it believes there have been 127 "anti-immigration" and "anti-housing of refugees" protests across the city so far this year.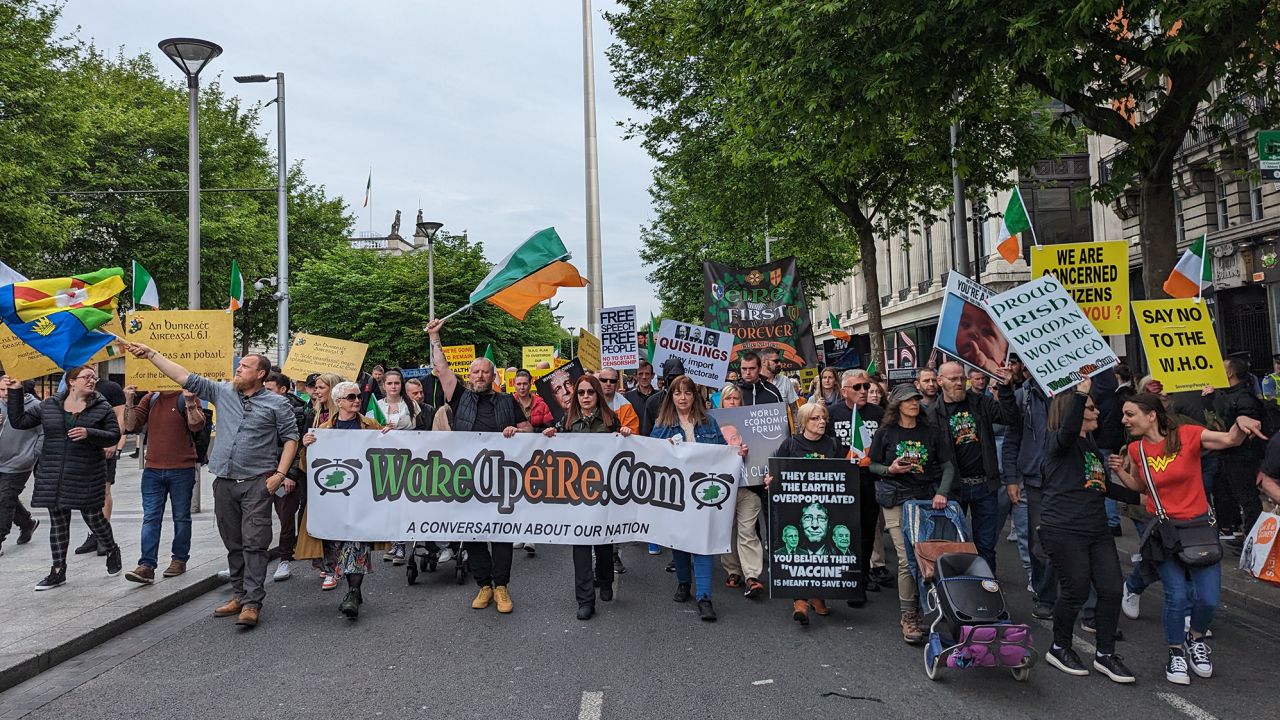 People attend an "anti-globalist" march in Dublin on Saturday, May 20.Caolan Magee/CNN
Olivia Teahan who works for Nasc Ireland, an NGO that advocates for the rights of refugees, told CNN that many years of ineffective government policy have deepened Ireland's housing crisis, making it increasingly difficult to find accommodation for refugees. "This all comes in the wake of the state failing to invest in infrastructure, instead relying on private providers such as hotels and B&Bs to meet the demand," she said.
"The cost of living and housing crises have been weaponized by a loud minority," Teahan said in an email. "A clear distinction needs to be made between those who have legitimate concerns about resource provision with regard to school places, housing and [doctor] waiting lists – and those weaponizing these concerns to sow hatred," she added.
While Ireland appeared to have escaped the rise of the far-right political movements experienced elsewhere in Europe over the past decade, there have been isolated attacks on asylum-seekers for many years.
According to The Irish Times, two hotels earmarked to house refugees were set alight, causing damage to the properties in County Donegal in 2018, and County Leitrim in 2019, while in Inch, County Clare, locals blocked a road for six days last week to prevent more refugees from entering an accommodation center.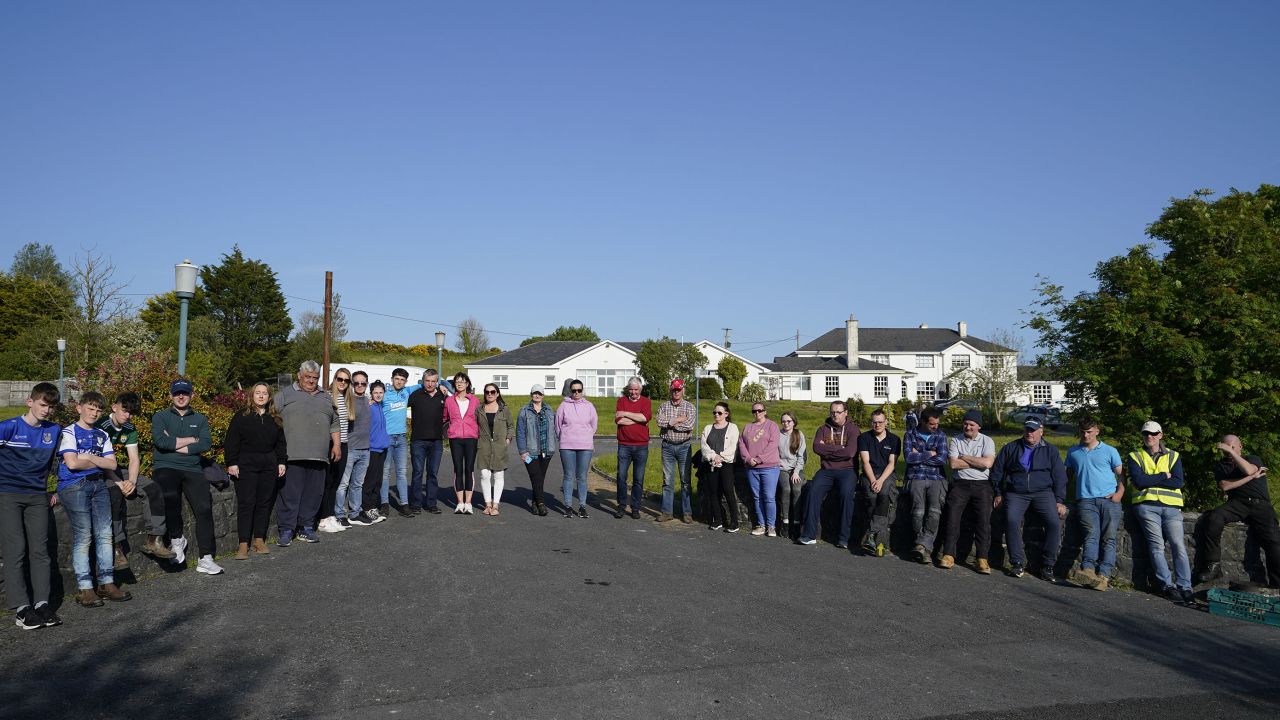 Local residents blockade accommodation for asylum-seekers at the Magowna House hotel in Inch, County Clare on Tuesday May 16, 2023.Niall Carson/PA Images/Getty Images
The government condemned the blockade, which ended on Sunday, with Irish Taoiseach Leo Varadkar saying at the Council of Europe in Reykjavik, Iceland last week, there were "no proposals to put a cap on refugees."
A spokesperson for the Department of Justice and the Department of Children, Equality, Disability, Integration and Youth, told CNN that almost 85,000 people are currently accommodated in Ireland – almost 10 times the number accommodated in February 2022, before the start of the full-scale invasion of Ukraine. These include thousands of people in state-subsidized private accommodation as well as roughly 20,000 asylum-seekers who are in state-provided accommodation.
But according to the latest government data from March, almost half of all asylum-seekers who arrived in March have not been offered accommodation.
The government told CNN that as of May 19, the Department of Children, Equality, Disability, Integration and Youth has been unable to offer accommodation to 300 applicants – despite a high court ruling last month that the government's failure to provide housing to asylum-seekers while their claims are being processed was unlawful.
Meanwhile, more than 5,000 people are living in accommodation centers who have already received immigration status but cannot move out due to the lack of affordable housing.
Source : CNN