IF YOU ARE a driver, you have probably seen the signs displayed at forecourts that from 1 July 2023, E10 petrol will be used to fuel vehicles in Ireland.
The Government says E10 petrol contains more bio-ethanol than the current E5 petrol supply in Ireland, so less fossil carbon is used.
The move to E10 is one of several transport measures being implemented to achieve a 51% reduction in transport emissions by 2030 as outlined in the Climate Action Plan 2023.
A public awareness campaign for the move to E10 got underway in March, involving advertisements in print, radio, social media, and at forecourts.
However, concerns have been raised this week that the switch will result in car owners of older vehicles having to undergo more regular maintenance and that the fuel is deemed not suitable for some vehicles.
E10 petrol has been rolled out in over 15 European countries, including the UK, and is the standard petrol supplied in Northern Ireland since last year.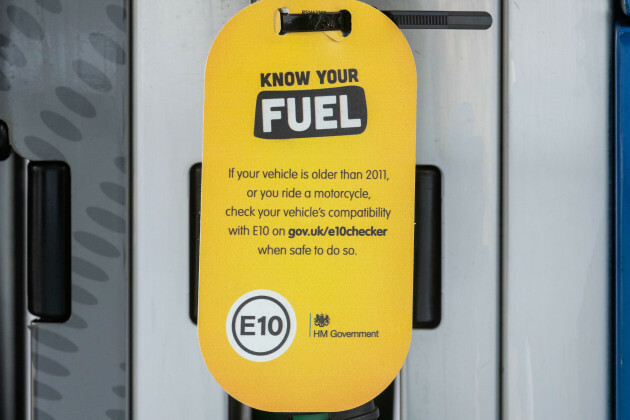 ALAMY STOCK PHOTO Information on an unleaded petrol pump at a filling station in the UK in 2021 explaining that there has been a change to E10 fuel.
In 2021, when the UK rolled out the change, prominent tags were placed on petrol pumps, telling drivers that if they drove a car older than 2011, they needed to ensure it was suitable for E10 petrol.
If an Irish driver wants to check if their car is suitable for E10 fuel, the Irish Government website directs them to the UK Government portal.
E10 and older cars
Earlier in the week, Independent TD Carol Nolan raised concerns about the switch over, stating that E10 is not suitable for some car models.
On the Government website, it states that all petrol-powered vehicles on the road today in Ireland can use E10 petrol.
However, it adds that while most cars and motorcycles manufactured since the late 1990s are designed for sustained use of E10, it may not be the case for all vehicles, for example:
classic vehicles
some specific models, particularly those from the early 2000s
some mopeds, particularly those with an engine size of 50cc or under
certain gardening, marine or aviation equipment, engines or generators
Junior Minister for Transport Jack Chambers, in answering Nolan, said:
"The advice is that the sustained use of E10 fuel in older vehicles may result in more frequent maintenance due to the vulnerability of certain vehicle parts to the solvent properties of ethanol requiring, for example, their more frequent replacement, but the clear feedback is that this does not mean they cannot be operated with E10 fuels and that it is safe to do so."
Nolan said the move to E10 fuels will affect people on low incomes who are struggling and have no choice but to use an older car.
"The safety issues must be investigated properly before the change is made, as climate change is not the only consideration. People's safety is also important," she said.
'More frequent maintenance'
Chambers said the clear evidence and guidance is that "E10 fuel is safe but may necessitate more frequent maintenance".
The issue was also raised in the Seanad this week by Independent Senator Ronan Mullen, who claimed that in other countries, the provision was made for the limited availability of the E5 blend for those who need it for older and vintage cars.
"To pretend people's engines will not be damaged is simply wrong. Is it yet another case of saying, 'To hell with you if you are in the small minority who will be affected because we are not going to bend.' If that is the attitude, it is not going to improve people's attitude towards climate-mitigation measures," he said.
High-powered EV chargers to be installed every 60km along all main roads under new Govt plan
In his response in the Seanad this week, Minister of State Malcolm Noonan said in some vehicles from before 2011, and predominantly from before 2003, the sustained use of E10 may result in "more frequent maintenance – of engine seals and hoses, for example – but it does not mean they cannot use it".
"In countries where E10 and higher ethanol blends are used widely for a prolonged period, there is no evidence of issues. All vehicle owners and operators are required to maintain their vehicles to operating and roadworthiness standards," he added.
Vintage cars
Of the 77 responses from the consultation on the move to E10, over 60 were received from classic car owners or enthusiasts in classic vehicle clubs, he said.
While many of the respondents were supportive of the move to E10, "there probably are issues" such as "possible corrosion", he said.
Chambers said the clear evidence and guidance is to the effect that E10 fuel is safe but may necessitate more frequent maintenance… The policy advice is that it is safe to change to E10 fuels".
To check if your vehicle can run on E10 petrol, the Government website says drivers should consult their vehicle manuals, vehicle manufacturer websites, or inside the fuel cap (on newer vehicles).
The Government also suggests motorists visit the UK Government's car compatibility checker tool at here.
It states that E10 suitable for use in cars other than those that are listed on its website: "If your vehicle is listed above you should continue to use E5 petrol." 
Source : TheJournal