The first Vietnamese Buddhist Temple in Ireland has officially been opened in Dublin.
Named the Minh Tâm Pagoda, it is located in the Malahide Road Industrial Park in Coolock.
Senior monks from the international Buddhist community were present for the ceremony, which was also attended by the Minister of State for Transport and for the Environment, Climate and Communications Jack Chambers.
It is estimated that there are up to 4,000 Vietnamese Buddhists out of a Vietnamese population of 10,000 in Ireland.
In August 1979, the Government agreed to take just over 200 Vietnamese "Boat People" who were fleeing the communist regime in Vietnam.
At first, they were accommodated in Red Cross centres in Blanchardstown and Swords before they moved on to rented local authority housing in Dublin and other parts of the country.
This morning's ceremony was led by the Director of the Temple, Venerable Monk, Thích Phước Huệ.
Based in Birmingham, where he also presides over the Tu Dam Tu temple, he will be the visiting monk in charge of the new Dublin temple.
The Minh Tâm Pagoda can accommodate five hundred people.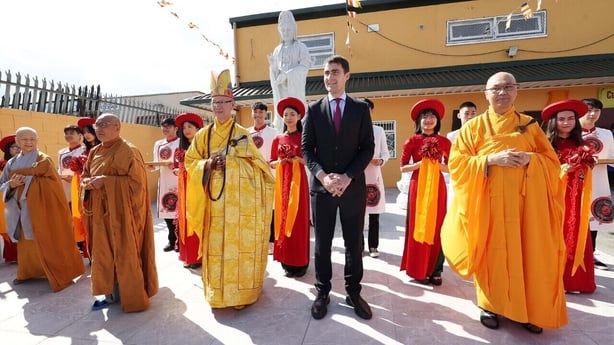 It is located in a disused industrial building which cost €400,000 to repurpose, with the support of gifts and loans from people in the Vietnamese community in Ireland and overseas.
Services will take place every Sunday and for cultural festivals such as Tet (the lunar new year), Buddha's birthday, Parent Day, and Mid-Autumn Moon Festival.
Causal law, which means do good and good comes back, is most important in the faith of Vietnamese Buddhists.
Thích Phước Huệ extended his "warmest blessings to all of those people who worked in so many ways to deliver a truly proud moment for the Vietnamese Buddhist community in Ireland".
Senior monks from the international Buddhist community travelled to Ireland for the ceremony from Canada, the USA and France.
Source : RTE