Twenty-four hours after the pomp and ceremony of the coronation of King Charles III, the celebrations were continuing around Northern Ireland.
And while Saturday was all about watching the spectacle of the first coronation in 70 years, yesterday was all about relaxing and enjoying the mood as families eased their way into the extra bank holiday weekend.
And there were few places better to enjoy the party atmosphere than along the sunny shores of Lough Neagh.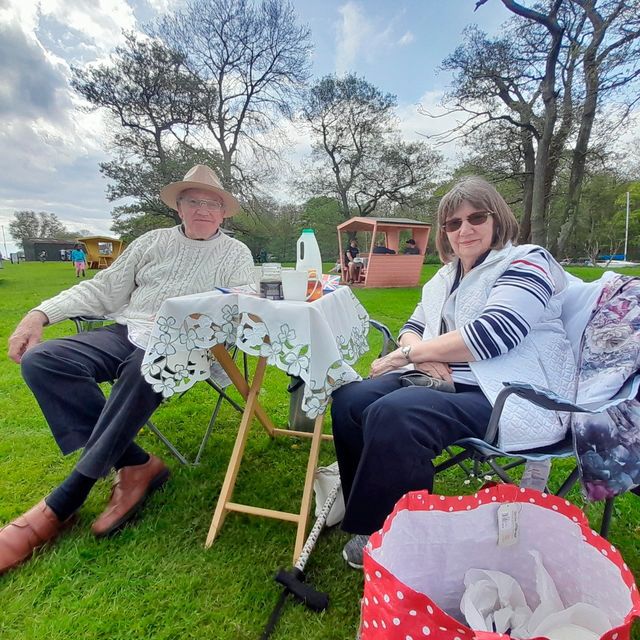 Lough Shore Park was one of three venues laid on by Antrim and Newtownabbey Borough Council as part of the nationwide Coronation Big Lunch, and the appetite to reflect on the pageantry of Saturday's events in London was indulged with an afternoon of music, fun, food and colour.
"Antrim has done us proud," said Sheila McBriar, relaxing with husband Steve and her family.
"It's a great day to let the grandkids come out and enjoy themselves. A lovely occasion for us to remember as a family."
Really getting into the spirit of the day were Jason Kirk and wife Pauline, veterans of royal celebrations, along with Avril Kirk and Tina Chan.
"We love it," said Jason.
"We have the whole family here with us and it's lovely to be able to celebrate the coronation together. We had all the ceremony of [Saturday] and now it's time for us to be together as a family. It's very chilled and relaxed and we'll be staying around as long as the rain holds off.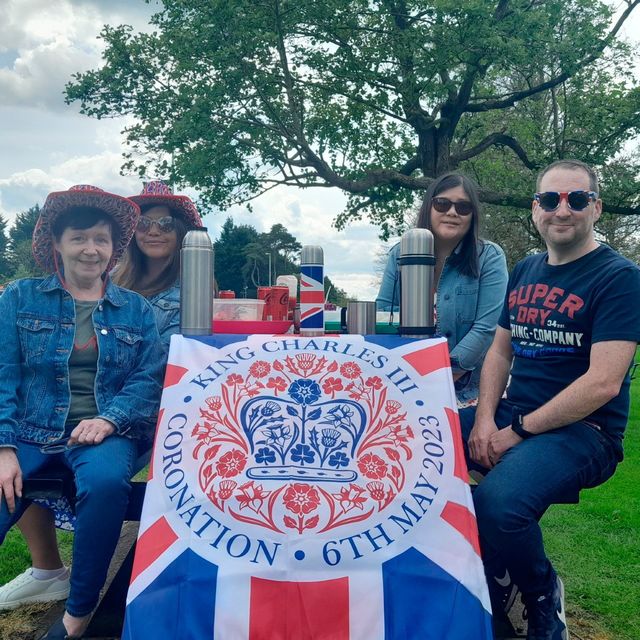 "We had all the joy of last year's jubilee celebrations, then the sadness of the Queen's funeral. And while this does feel a little different, it's still something that we wanted to share as a family."
"The coronation ceremony was flawless," added Pauline.
"And now we want to round it off by heading over to Castle Gardens to watch the coronation concert on the big screen with all the children."
For Victoria Howarth in Antrim for a picnic with Kyle Stewart, Donal Kelly and her sister Jessica Howarth, the coronation highlight was the style of the guests at the service.
"I love that," she said.
"But today [Sunday] isn't about the fashion, it's about the fun and relaxing to enjoy the moment.
"There's live music on and it's great to see all the kids having fun, the mums and dads sitting back to relax.
"We've had a lovely afternoon here, though we might have overdone the picnic a little."
Coronation flags were everywhere, while many wore coronation T-shirts, including Karen Green and Lauren Freedman, from Ballyclare.
"The bouncy castles, the kids running around with footballs — it's a lovely atmosphere for the families who have come along," said Lauren.
"For most of us, this is the first time we have experienced a coronation. And while the jubilee was a bigger event, this has still been a wonderful occasion to be part of. Hopefully all the kids will remember it in years to come."
For Karen, the day provided relief, getting her out of her kitchen.
"I had all the family around yesterday [Saturday] so didn't get to see a lot of the coronation. I spent most of the day cooking. I have it recorded, though, so I'm looking forward to watching it back. Today is about sitting back, relaxing and enjoying the event."
Some people went a little further than most in spreading the joy of the coronation. The members of Antrim Floral Art Club did their bit to add some colour by decorating the district with floral displays.
"We've been out to local leisure centres and council offices and left displays," said Maretta Coleman.
"Today we're here handing out handmade posies. It's just our little touch to bring a bit of extra enjoyment and colour. It's been a busy couple of days but a wonderful experience."
The ladies, with Hughaline Gault, Lily Orr, Marjorie McGrath, Joan Kelly and Karen McCartney helping Maretta, were flower arranging all day and helping some of the younger party-goers get involved.
"We just thought it would be a nice touch," added Maretta.
"King Charles loves his gardens, and so do we. And Saturday was National Flower Arranging Day, so that got a little lost in all the coronation celebrations."
Similar events were held across Northern Ireland as families got together to reflect on the events of yesterday and spend some time together.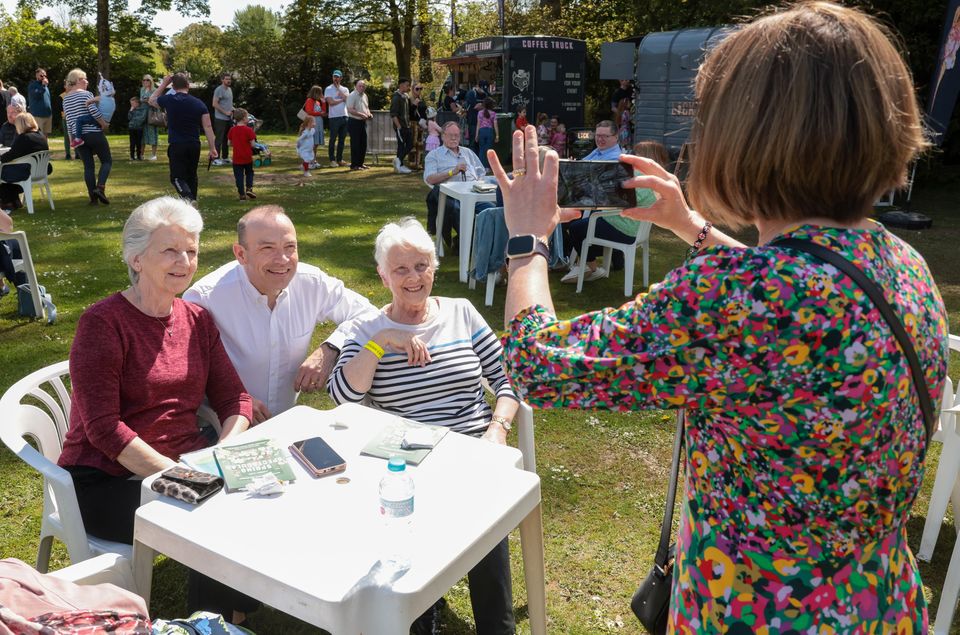 City Hall in Belfast and Hillsborough Castle and Gardens were two of the major venues to host a Big Coronation Lunch, while people also turned out in force to celebrate the coronation weekend during a tea party hosted by Caw Nelson Drive Action Group in Londonderry's Waterside.
The Belfast City Hall lunch was attended by more than 200 volunteers from a range of organisations and was part of a programme of activity organised by Belfast City Council.
Secretary of State Chris Heaton-Harris MP marked the Coronation Big Lunch by attending the festivities at Hillsborough Castle and Gardens, where he met with local community groups, including Beechlawn School Makaton Choir and scouts representatives, as well as enjoying food and live music with members of the public.
Source : Belfasttelegraph