Taoiseach Leo Varadkar has said he is "sure" Ireland will not apply to join Nato, however, he said the State will "become more involved in European defence and security".
He said Russia's invasion of Ukraine has led to a re-think in defence and security policy.
Mr Varadkar was speaking on The Rest Is Politics Leading, a podcast with author and former UK Labour strategist Alastair Campbell, and former Conservative politician Rory Stewart.
Mr Campbell asked if the war in Ukraine had changed his view on Ireland's strategic and security interests, and neutrality.
Mr Varadkar replied: "I think it's definitely caused Irish people and the Irish Government to think about neutrality and think about security in a way we didn't in the past. Ukraine was a neutral non-aligned country, and it got attacked… Nato countries will not be attacked.
"That's why Finland – a historically neutral country – has joined Nato, and Sweden is going to join. They've made the calculus now that not being in a military alliance can potentially make you more vulnerable, you're a soft target. That has made us think again."
When asked directly if he could ever see Ireland applying to join Nato, Mr Varadkar said: "I don't anticipate… in fact, I'm sure Ireland will not apply to join Nato. We will do three things; we're going to increase our own military spending, particularly when it comes to things like radar and cybersecurity, not just traditional security.
"We will become more involved in European defence and security, we're part of the Pesco programme. Sinn Féin by the way wants to take us out of that, I think that would be a big mistake, it's one of the differences between the government parties and opposition parties."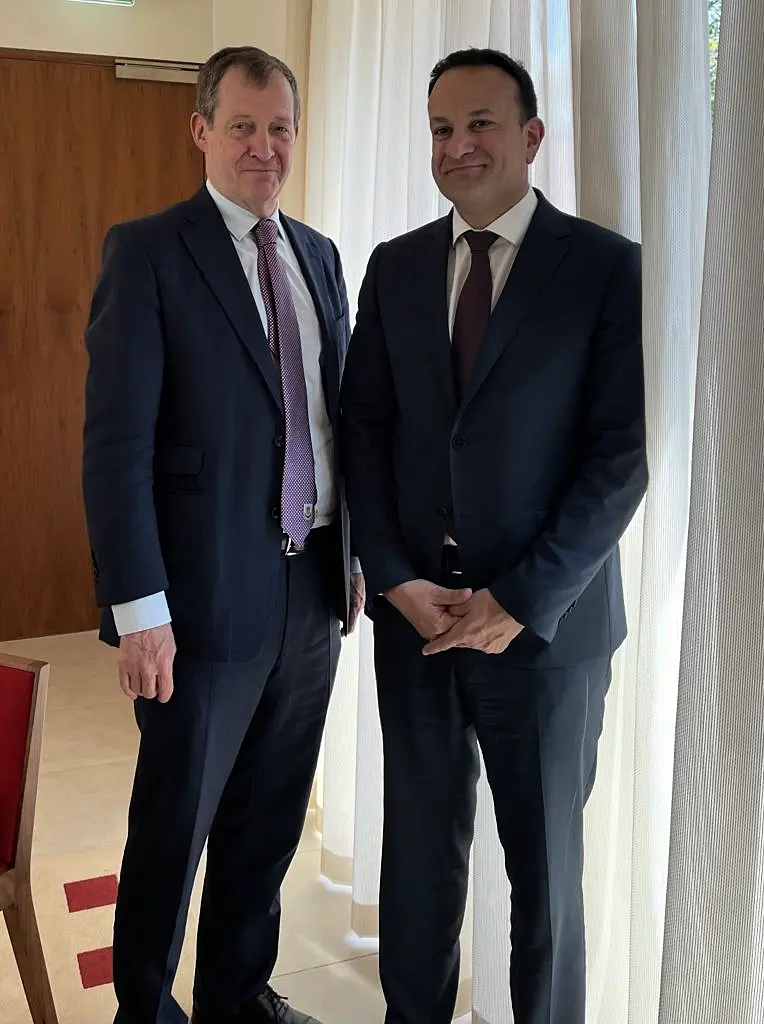 Taoiseach Leo Varadkar appeared on The Rest Is Politics Leading podcast with Alastair Campbell and Rory Stewart.
The Permanent Structured Cooperation (Pesco) is the part of the European Union's security and defence policy in which 26 of the 27 national armed forces pursue structural integration.
Ireland is a member of the group, with Malta the only EU country not involved.
While Mr Varadkar claimed Sinn Féin would seek to withdraw the Republic from Pesco if the party comes to power, it has since changed this policy.
In response to a recent query from The Irish Times, Sinn Féin said it had dropped its pledges to withdraw from the EU common defence arrangement known as Pesco and from Nato's Partnership for Peace (PfP) project.
Mr Varadkar added: "We are also a part of Nato's Partnership for Peace, and we're going to re-negotiate that link in the period ahead. Perhaps more important though, is Irish people are more comfortable with the idea that while we are militarily neutral, we are not politically neutral.
"We know exactly whose side we are on when it comes to the conflict between Russia and Ukraine. Going back to the Cold War, Irish people would have been more ambiguous, there would have been people with a sneaking regard for the Soviet Union believe it or not. You don't see much of that when it comes to Russia now."
When asked if Sinn Féin's rise in popularity reflected a global trend towards populism, the Taoiseach replied: "Sinn Féin figures describe their own party as a left populist party, so I don't think it's an insult to describe them as populist, left wing, ethno nationalist… that is what they are, and that's not what I stand for.
"I think populism is largely an international phenomenon at the moment, and it's defined by some very simple things; simple solutions to complex problems, emotions being stronger than facts, 'my emotions are more important than your facts', demonisation of opponents, and also these conspiracy ideas of elites plotting against the virtuosa masses. And whether it's left populism or right populism, it's there and it's dangerous."
However, he admitted that Fine Gael's approach when in opposition had some similarities to the current leading opposition party.
"Certainly for people in opposition I can see the attraction of it. When we were in opposition ourselves, we were populist… a bit, sometimes, so I'm not going to be overly righteous about these things."
On the differences between the Coalition and opposition, Mr Varadkar said the public don't accept "rhetoric" from politicians in power.
"I think for politicians in government you do have to continually try and convince people that you're on their side and want to solve their problems… because sometimes they doubt that, particularly when you're struggling to solve their problems. That can be a real challenge to demonstrate you're on their side, care about their problems and that's what you're spending most of your day and most of your weekend on, and I am. Whether it's housing, healthcare, cost-of-living issues, you name it. The other is to make inroads into solving those problems. While people will accept rhetoric from opposition politicians, from government politicians they want to see results."
Leading is a spin-off of the popular Rest Is Politics podcast hosted by Mr Campbell and Mr Stewart, in which they interview leaders in politics and other fields.
Other guests on the podcast have included Bertie Ahern, Bernie Sanders, Hillary Clinton and Gerry Adams.
Source : BreakingNews.ie